Deadline: 08/06/2022
Couronne The Project Chính Thức Mở Đơn Tuyển Core Team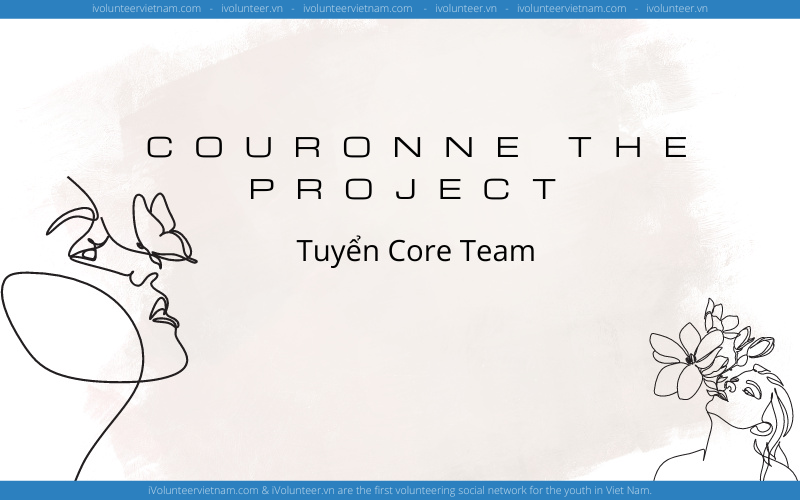 ☘️GIỚI THIỆU CHUNG:
Couronne the Project
là một dự án cộng đồng được lập ra với mong muốn đưa đến cho xã hội một cái nhìn khác về những người được cho là "phái yếu". Dự án mang trong tiềm thức sứ mệnh gạt bỏ những định kiến cổ hủ áp đặt lên vai người con gái, đưa ra những biện pháp bảo vệ và phát triển bản thân cho phái đẹp. Từ đó, mỗi người con gái có thể mang lên chiếc vương miện rực rỡ và trở thành nữ hoàng trong vương quốc của chính mình. ☘️ 
CÁC VỊ TRÍ ỨNG TUYỂN: 
Trưởng – Phó ban Truyền thông
Trưởng – Phó ban Nội dung
Trưởng – Phó ban Tài chính – Đối ngoại
Trưởng – Phó ban Medes
Trưởng – Phó ban Nhân sự
Trưởng – Phó ban Sự kiện – Hậu cần
☘️ 
ĐỐI TƯỢNG THAM GIA:
Học sinh, sinh viên toàn quốc
☘️ LINK ĐĂNG KÝ: TẠI ĐÂY
Couronne the Project is a community project created with the desire to give society a different view of people who are considered "the weaker sex". We subconsciously carry the mission to get rid of the old stereotypes imposed on the shoulders of women, and to offer measures to protect and develop themselves for women. From that. Every girl can put on a brilliant crown and become queen in her own kingdom.
To complete the mission, we need to find the first pieces for the train called Couronne the Project in the first adventure, number 0.1.
RECRUITMENT POSITIONS:
Head – Vice Head of Communications
Head – Vice Head of Content
Head – Vice Head of Finance – External Relations
Head – Vice Head of Medes
Head – Vice Head of Human Resources
Head – Vice Head of Events – Logistics
PARTICIPANTS:
Students in Vietnam
If you want to honor the value of women, immediately apply for this adventure with number 0.1!
Shortlink: https://ivolunteervietnam.com?p=105934
Trong quá trình tổng hợp và chia sẻ thông tin, các tình nguyện viên/ cộng tác viên/ thành viên rất khó tránh khỏi thiếu sót. Rất mong được độc giả cảm thông và góp ý tích cực để giúp iVolunteer Vietnam ngày một hoàn thiện & phát triển.
---