Deadline: ASAP
Trung Tâm Hoa Kỳ – ĐSQ Hoa Kỳ Tại Hà Nội Tổ Chức Buổi Cung Cấp Thông Tin Về Bài Thi IELTS, Tips Ôn Tập,…(Miễn Phí Tham Dự)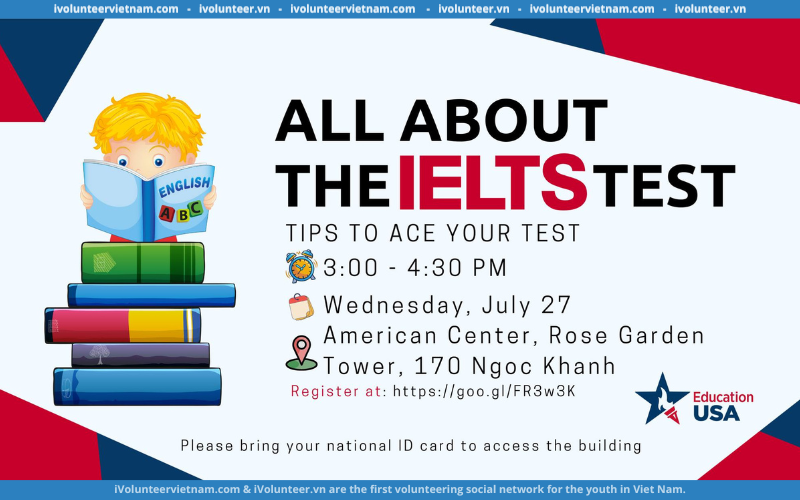 Dù bạn muốn có điểm thi chuẩn hóa tiếng Anh cho việc học đại học, cao học hay đi làm, bài thi IELTS đều phù hợp với bạn. Hãy tham gia buổi cung cấp thông tin về bài thi IELTS của EducationUSA, diễn giả của chúng tôi sẽ chia sẻ với bạn thông tin chung về bài thi IELTS và những gợi ý để đạt điểm cao.
Either you want evidence of English proficiency for higher education or for work, the IELTS test is suitable for you. Join EducationUSA and our speaker to learn more about the test, and tips to achieve a high score.
Thời gian/Time: Wednesday, July 27, 3pm – 4:30pm
Địa điểm/ Venue: Trung tâm Hoa Kỳ tại Hà Nội (tòa nhà Rose Garden, 170 Ngọc Khánh, HN)
Chủ đề/Topic: All about the IELTS test – Tips to ace the test
Diễn giả/Speaker: Trần Đăng Huy Hoàng
Đăng ký tại/Register at: https://goo.gl/FR3w3K
(*) Lưu ý:
Đây là sự kiện trực tiếp/This is an in-person event.
Người tham dự cần mang theo Căn cước công dân/ Chứng minh thư.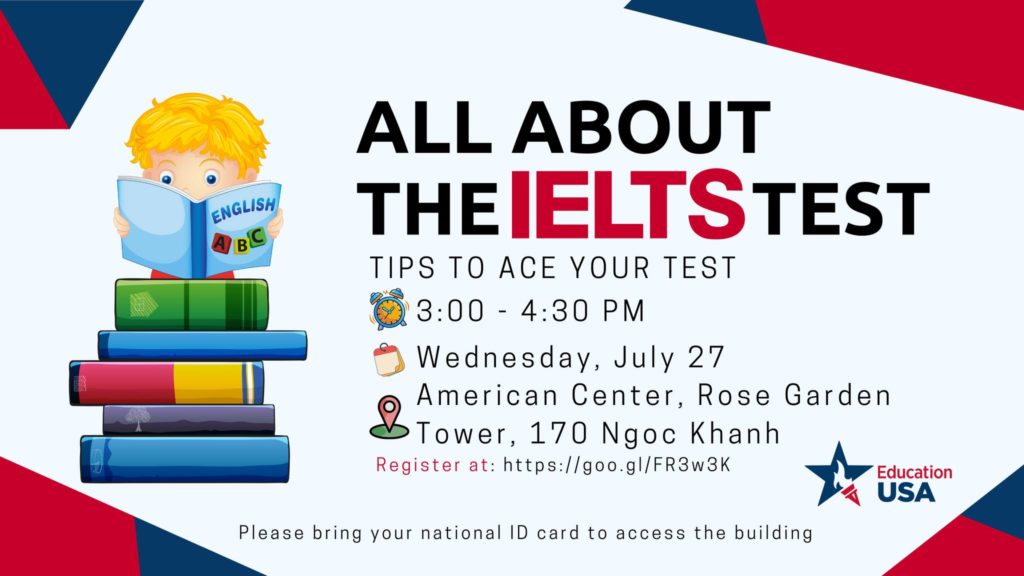 Shortlink: https://ivolunteervietnam.com?p=105454
Trong quá trình tổng hợp và chia sẻ thông tin, các tình nguyện viên/ cộng tác viên/ thành viên rất khó tránh khỏi thiếu sót. Rất mong được độc giả cảm thông và góp ý tích cực để giúp iVolunteer Vietnam ngày một hoàn thiện & phát triển.
---