Deadline: ASAP
Đại Sứ Quán Hoa Kỳ Tại Hà Nội Tổ Chức Câu Lạc Bộ Diễn Thuyết & Thuyết Trình (Public Speaking Club) – Miễn Phí Tham Gia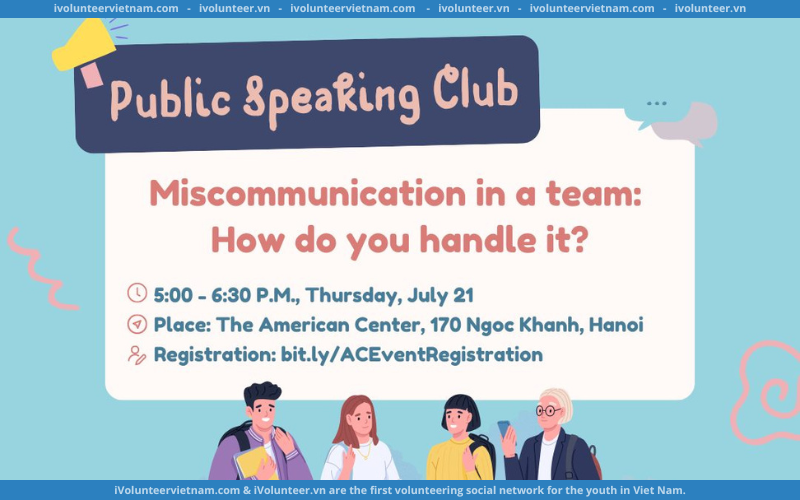 Chủ đề: Bạn xử lý như thế nào khi gặp trường hợp "thông tin sai lệch trong nhóm"?
Bạn có bao giờ…
Diễn giải sai ý tưởng của đồng đội?
Trượt 1 bài kiểm tra do bạn không hiểu rõ yêu cầu của giáo viên? 
Đưa ra những lời chỉ trích khiến đồng đội của bạn tức giận?
Nếu câu trả lời là có, bạn đã gặp tình trạng "Team Miscommunication". Việc này không hiếm và xảy ra vì vô số lý do, ví dụ như bạn bị mơ hồ, giả định hoặc nhận thông tin khi thiếu ngữ cảnh. Tuy vậy…giống như mọi thử thách khác trong cuộc sống, những sự cố giao tiếp này cũng sẽ dạy cho chúng ta 1 điều gì đó giá trị!
Vì vậy, chúng ta hãy tìm hiểu sâu hơn về vấn đề này nhé! Thứ Năm tuần này, hãy đến American Center Hanoi để:
 Suy ngẫm và chia sẻ về kinh nghiệm của chính bạn qua những lần bị thông tin sai lệch; 
 Đánh giá bài phát biểu của những người tham gia và nhận được góp ý dành cho riêng bạn;
  Luyện tập kỹ năng ứng phó/ giải quyết vấn đề nhanh chóng; 
 Tăng
 cảm hứng để giao tiếp tốt hơn khi làm việc trong nhóm;
Thời gian: 5:00 – 6:30 chiều, Thứ Năm, ngày 21/7/2022
Địa điểm: Trung tâm Hoa Kỳ, 170 Ngọc Khánh, Hà Nội
Đăng ký: TẠI ĐÂY 
————————–
 Topic: Miscommunication in a team: How do you handle it?
Have you ever…
Interpreted your teammate's idea the wrong way?
Turned in an assignment that missed the mark because you misunderstood the expectation?
Given criticism that has angered your teammate?
If any of your answers are yes, you've experienced team miscommunication. This is not rare, and happens for a myriad of reasons, such as ambiguity, assumption, or lack of context. But like every other challenge in life, these communication mishaps can teach us something valuable.
So let's dive deeper into this. This Thursday, come to American Center Hanoi to:
 Reflect and share about your own experience in team miscommunication
 Evaluate others' speech and receive evaluation for yours
 Practice thinking on your feet
 And, get inspired to communicate better as a team player
5:00 – 6:30 P.M., Thursday, July 21, 2022
The American Center, 170 Ngoc Khanh, Hanoi
Registration: CLICK HERE 
Shortlink: https://ivolunteervietnam.com?p=103849
Trong quá trình tổng hợp và chia sẻ thông tin, các tình nguyện viên/ cộng tác viên/ thành viên rất khó tránh khỏi thiếu sót. Rất mong được độc giả cảm thông và góp ý tích cực để giúp iVolunteer Vietnam ngày một hoàn thiện & phát triển.
---