Deadline: 10/7/2022
Khóa Học Giao Tiếp Tiếng Anh Miễn Phí Tại Trung Tâm Hoa Kỳ (American Center): ASEAN Vocabulary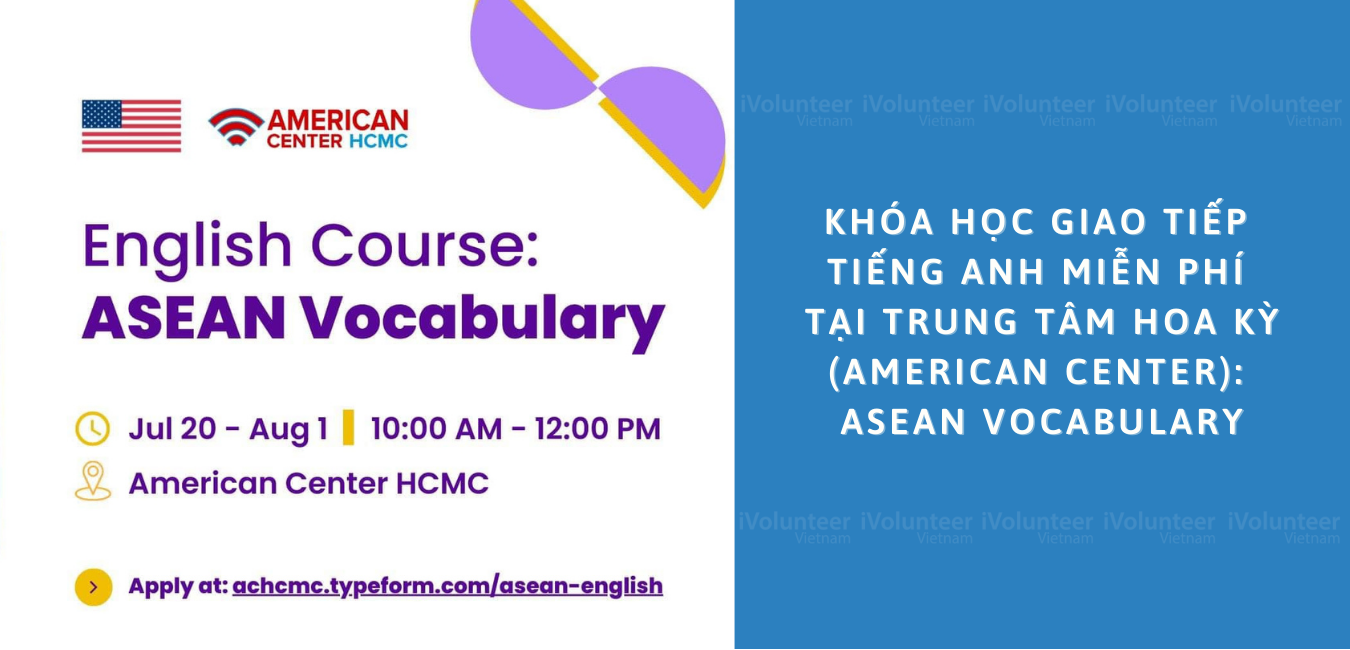 Khóa học tiếng Anh MIỄN PHÍ tại Trung tâm Hoa Kỳ – Số lượng tham gia có hạn!
Bạn muốn nâng cao kỹ năng nói tiếng Anh và kết nối với các bạn trẻ ASEAN khác tại TP.HCM? Đăng ký ngay để tham gia
khóa học giao tiếp 6 buổi
dành cho học sinh cấp 3, sinh viên và người đi làm trẻ tuổi. Khóa học này sẽ giúp bạn nâng cao kỹ năng nói qua các buổi thảo luận.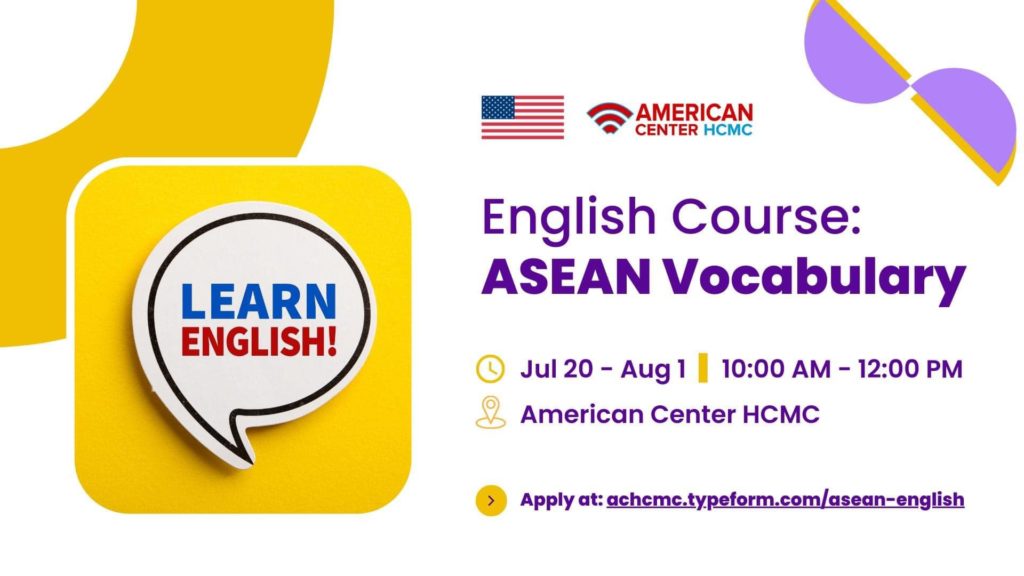 Thời gian mở đăng ký: 6/7-10/7/2022
Form đăng ký:
https://achcmc.typeform.com/asean-english
————————————-
𝐅𝐑𝐄𝐄 𝐄𝐧𝐠𝐥𝐢𝐬𝐡 𝐂𝐨𝐮𝐫𝐬𝐞 𝐚𝐭 𝐭𝐡𝐞 𝐀𝐦𝐞𝐫𝐢𝐜𝐚𝐧 𝐂𝐞𝐧𝐭𝐞𝐫 – 𝐋𝐢𝐦𝐢𝐭𝐞𝐝 𝐒𝐩𝐚𝐜𝐞! Want to improve your spoken English and connect with other ASEAN youth in HCMC? Register now for this 6-session communicative English course for high school/university students and young professionals. The series will use discussion-based workshops to help develop your English speaking skills.
 Registration opens July 6. 
 Sign up before the July 10 deadline at https://achcmc.typeform.com/asean-english 
Các khóa học iVolunteer chia sẻ bao gồm 2 hình thức: miễn phí và trả phí. Các nền tảng cung cấp khóa học có thể thay đổi thành miễn phí - trả phí bất cứ lúc nào mà không cần báo trước. Để biết thêm chi tiết, bạn vui lòng truy cập tại link đính kèm trong bài đăng. Cảm ơn các bạn đã quan tâm!
Shortlink: https://ivolunteervietnam.com?p=101647
Trong quá trình tổng hợp và chia sẻ thông tin, các tình nguyện viên/ cộng tác viên/ thành viên rất khó tránh khỏi thiếu sót. Rất mong được độc giả cảm thông và góp ý tích cực để giúp iVolunteer Vietnam ngày một hoàn thiện & phát triển.
---