Deadline: 28/02/2023
Văn Phòng UNESCO Tại Việt Nam Tuyển Dụng Thực Tập Sinh Ban Khoa Học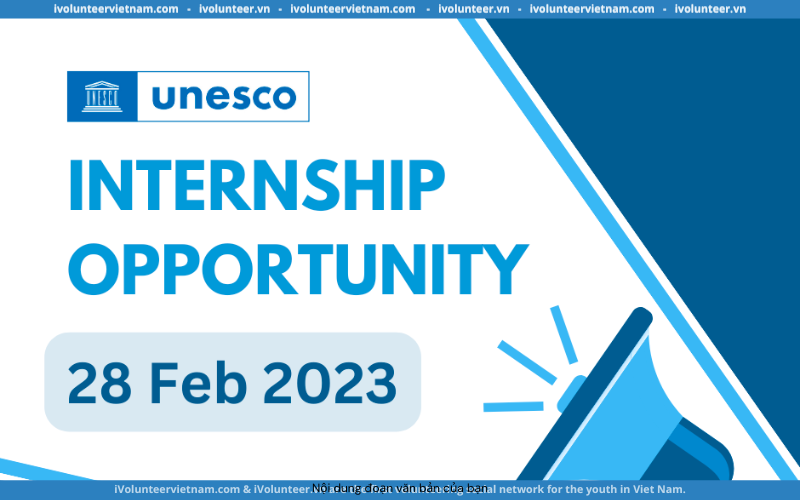 OVERVIEW OF THE FUNCTIONS OF THE POST
The UNESCO Office in Ha Noi coordinates international cooperation in the Organization's key strategic action areas (education, natural and human social sciences, culture, communication and information). UNESCO Ha Noi has supported the Government of the Socialist Republic of Viet Nam since 1999, starting with the Education and Culture sectors and now expanding to contribute comprehensive assistance to the country in all action areas.
The Natural Sciences Programme in Vietnam provides supports in the freshwater, marine, ecological, earth and basic sciences, while promoting science, innovation and technology and capacity-building in the sciences and engineering. As the only UN agency with mandate in sciences, the Natural Sciences Programme in Vietnam focuses on mobilizing scientific knowledge for the sustainable management of natural resources, through generating science-based solutions and improving institutional capacity in sustainable natural resources management and leveraging UNESCO-designated sites in Viet Nam as platforms for change and innovation. The program provides capacity development related to freshwater, marine, earth and basic sciences while also foster innovative technology in these fields. In Viet Nam, UNESCO's Natural Sciences section will strengthen the role and potential of the Man and the Biosphere (MAB) reserves, along with other UNESCO affiliated sites and their associated networks, as pilot sites (i) for research on climate change mitigation and adaptation, along with green and blue economies, and (ii) for collaboration with other innovative international environmental initiatives. Since 2020, UNESCO Vietnam has been implementing the "Youth and Innovation for Ocean Initiative", in partnership with The Coca Cola Foundation and partners in Hoi An – Cu Lao Cham and Cat Ba Island. The project aims to enhance public awareness and foster social inclusion by mobilizing youth and young professionals on plastic and solid waste collection, recycle and reuse in UNESCO-designated sites in Vietnam, contributing to sustainable development of UNESCO-designated sites as learning sites for green and inclusive development. Specifically, the project supports UNESCO World Man and Biosphere Reserves and coastal communities in Viet Nam to combat plastic waste by empowering youth and young professionals to put forward innovative and practical solutions in the areas of collecting, sorting, treating, reduce, reuse, recycle, repair, rethink, and refuse– all fostering sustainable and green growth in the country.
UNESCO Hanoi is seeking an intern to support for the project implementation during Mar – Sept 2023. The intern will be involved in the delivery, implementation of program activities under the Natural science unit as well.
Only Vietnamese nationality can apply for this position. The position will work mainly on teleworking basis with regular present at the Office, subject to the discussion with the incumbent and the actual conditions.
SUPERVISION
The position will work closely with the Associate Project Officer and under direct supervision of the National Professional Officer for Natural Science
DUTIES AND RESPONSIBILITIES
The incumbent will provide assistance to the implementation of activities within Natural Science programme, particularly for the project "Youth and Innovation for Ocean Initiatives". S/he will perform the following duties:
1. Provide assistance in desk review, searching information and data, case studies in the field of natural resources management;
2. Provide assistance in translating for related documents of the Natural Science programme;
3. Support in developing the contents for communication materials on social media channel (web stories, press release, Facebook posts etc.) of the project, with guidance from project officer and Communication Officer;
4. Arrange administrative supports for organizing project events, workshop and activities;
5. Support to collect case stories, photos, short films within the framework of the Youth for Zero Waste project for documentation purposes;
6. Provide assistance in taking notes in meetings and prepare meeting minutes as required
7. Perform other tasks assigned by supervisor as deemed appropriate.
COMPETENCIES
(Core / Managerial) Accountability (C) Communication (C) Results focus (C) Teamwork (C) Professionalism (C) For detailed information, please consult the UNESCO Competency Framework.
REQUIRED QUALIFICATIONS
Nationality: Only Vietnamese nationality can apply
Education: Bachelor's degree in Communication, Natural Sciences, Natural resources management, Environment Studies, Development studies, Social and Human Sciences, or any related fields. Final year student would be considered.
Competencies and skills: Ability to assist with data collection using various methods including electronic sources on the internet, intranet and other databases; Commitment to team work; Strong interpersonal, communication and teamwork skills; Highly organized and self-motivated; Openness to interdisciplinary approaches is highly desirable. Computer skills: Proficiency in the use of computers and in office software and packages.
Languages: An excellent command written and spoken Vietnamese and English is required.
DESIRABLE QUALIFICATIONS
Experience working in development area and youth engagement is a plus.
Ability to use Photoshop, Canvas, Adobe and other media design related software would be an asset.
Knowledge on Natural Science/Development field is an asset.
Knowledge of infographic design, remote sensing and GIS, hydrological software or design would be an asset.
BENEFITS AND ENTITLEMENTS
The place of work will be arranged combining the online and working at the UNESCO office in Hanoi , subject to the discussion with the incumbent and the actual conditions.
Thematic technical capacity: The intern will be trained in natural resources conservation and management, youth development and the roles of natural sciences and its contribution in the sustainable development agenda, UNESCO's mandate and contribution in the overall UN development framework.
Skills building: The intern will be trained in organizational management, teamwork, communications skills in a professional and multicultural working environment of a UN organization. The intern will be awarded a certificate upon completion internship.
The incumbent shall ensure a self-covered living cost during the internship. UNESCO does not pay any allowance for internship.
SELECTION AND RECRUITMENT PROCESS
Please note that all candidates must complete an on-line application and provide complete and accurate information. To apply, please visit the UNESCO careers website. No modifications can be made to the application submitted.
The evaluation of candidates is based on the criteria in the vacancy notice, and may include tests and/or assessments, as well as a competency-based interview.
UNESCO uses communication technologies such as video or teleconference, e-mail correspondence, etc. for the assessment and evaluation of candidates.
Please note that only selected candidates will be further contacted and candidates in the final selection step will be subject to reference checks based on the information provided.
UNESCO recalls that paramount consideration in the appointment of staff members shall be the necessity of securing the highest standards of efficiency, technical competence and integrity. UNESCO applies a zerotolerance policy against all forms of harassment. UNESCO is committed to achieving and sustaining equitable and diverse geographical distribution, as well as gender parity among its staff members in all categories and at all grades. Furthermore, UNESCO is committed to achieving workforce diversity in terms of gender, nationality and culture. Candidates from non- and under-represented Member States (last update here) are particularly welcome and strongly encouraged to apply. Individuals from minority groups and indigenous groups and persons with disabilities are equally encouraged to apply. All applications will be treated with the highest level of confidentiality. Worldwide mobility is required for staff members appointed to international posts. UNESCO does not charge a fee at any stage of the recruitment process.
APPLICATION
Deadline: 28 Feb 2023
Official announcement: click here
Please refer to this job description for your application. 
Nguồn: https://ivolunteer.vn/van-phong-unesco-tai-viet-nam-tuyen-dung-thuc-tap-sinh-ban-khoa-hoc-s19307.html
Shortlink: https://ivolunteervietnam.com?p=131021
Trong quá trình tổng hợp và chia sẻ thông tin, các tình nguyện viên/ cộng tác viên/ thành viên rất khó tránh khỏi thiếu sót. Rất mong được độc giả cảm thông và góp ý tích cực để giúp iVolunteer Vietnam ngày một hoàn thiện & phát triển.
Tin công nghệ, điện thoại, máy tính, ô tô, phân khối lớn, xu hướng công nghệ cập nhật mới nhất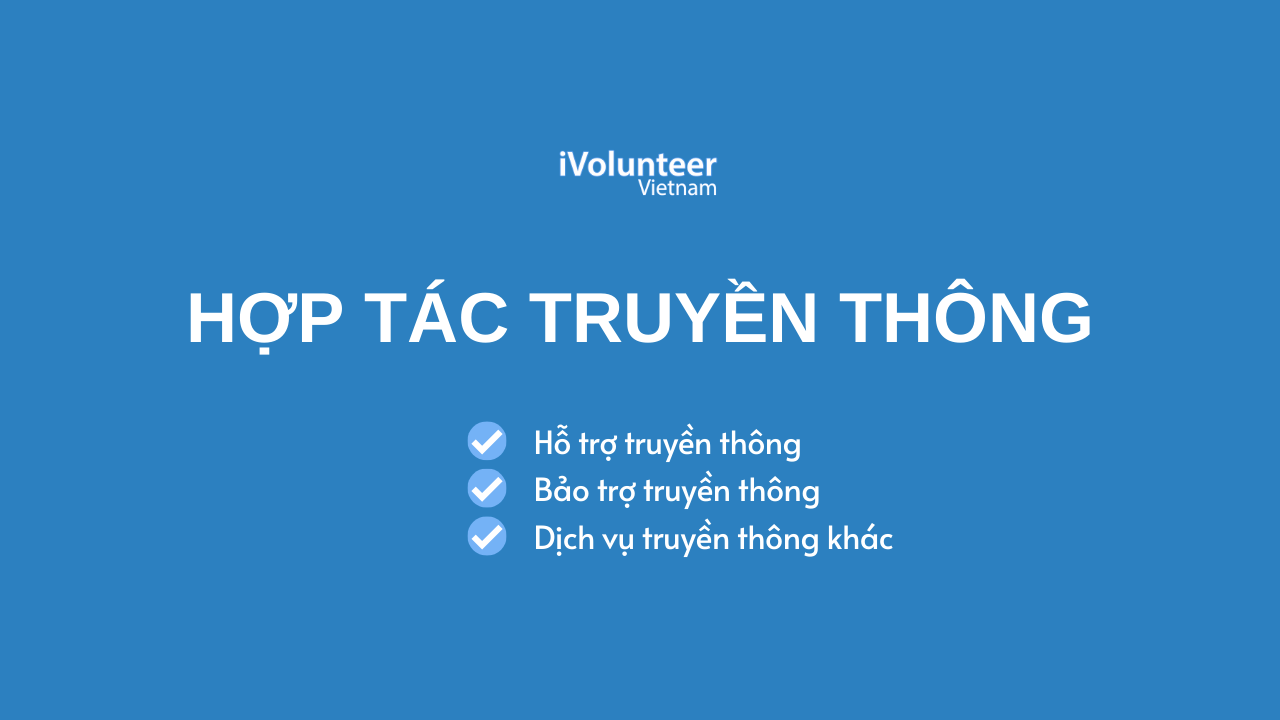 ---